Features
Comfort Zone
Lake Josephine takes center stage in a new Minnesota home for a transplanted Chicago couple.
Designing around clients' existing pieces can be a blessing or a curse, depending on their taste and the quality of their collections. Fortunately, for Rebecca Pogonitz, the clients from Lake Forest who asked her to renovate and design a home for them in Minnesota had an arsenal of beautiful art and furnishings that she could mine.
"It's a designer's dream to have clients with good art," said Pogonitz, senior designer at CCS Interior Design Group, who was charged with helping a business executive and his wife create a casual chic, home on Lake Josephine in Arden Hills, Minnesota. The couple moved from their longtime home on Chicago's North Shore to be near their daughters and grandchildren.
The house itself, built in 2000, also had some great features worth preserving. They kept the hardwood floors and coffered ceilings; everything else had to go. "It was very out of date and not functional," said Pogonitz. "The kitchen was not built-out, and the living room had a small replace. It was not conducive for entertaining or houseguests." Functionality is key for any project CCS Interior Design Group takes on. Pogonitz recently joined forces with Cynthia Smith, principal and founder of CCS. Inundated with work and business costs, both designers were looking to hire an assistant when they decided it would more beneficial to work under one company. "Rebecca and I share a similar design aesthetic and work ethic," Smith says of her new partner. "She has the creativity and puts things together very well, but understands that every project must be functional."
For the Minnesota lake house, Pogonitz covered walls on the main level in Benjamin Moore's Revere Pewter to balance the chocolate hues of the oak floor. The neutral tones, favored overwhelmingly by CCS clients, also wouldn't distract from the stunning view outside their windows, which she kept bare save for some discreet motorized shades. A waterfall island of Danby marble brings the eye toward the kitchen as does a custom stainless steel hood composed of polished and matte finishes. "The island is marble with deep chocolate veining," the designer said. "We looked high and low for that material." She credits her contractor for sourcing the perfect slab.
The clients, avid travelers who collect art, desired a more eclectic look for this home, straying from the traditional aesthetic of their previous home. It was also important to incorporate some of their existing pieces, such as the dining table. Pogonitz paired it with a china cabinet so heavily distressed by a faux finisher that it could easily pass for vintage. Both the table and storage unit nicely contrast the modern white kitchen. "We wanted to blend the modern and the old and to reflect their more eclectic taste," she says.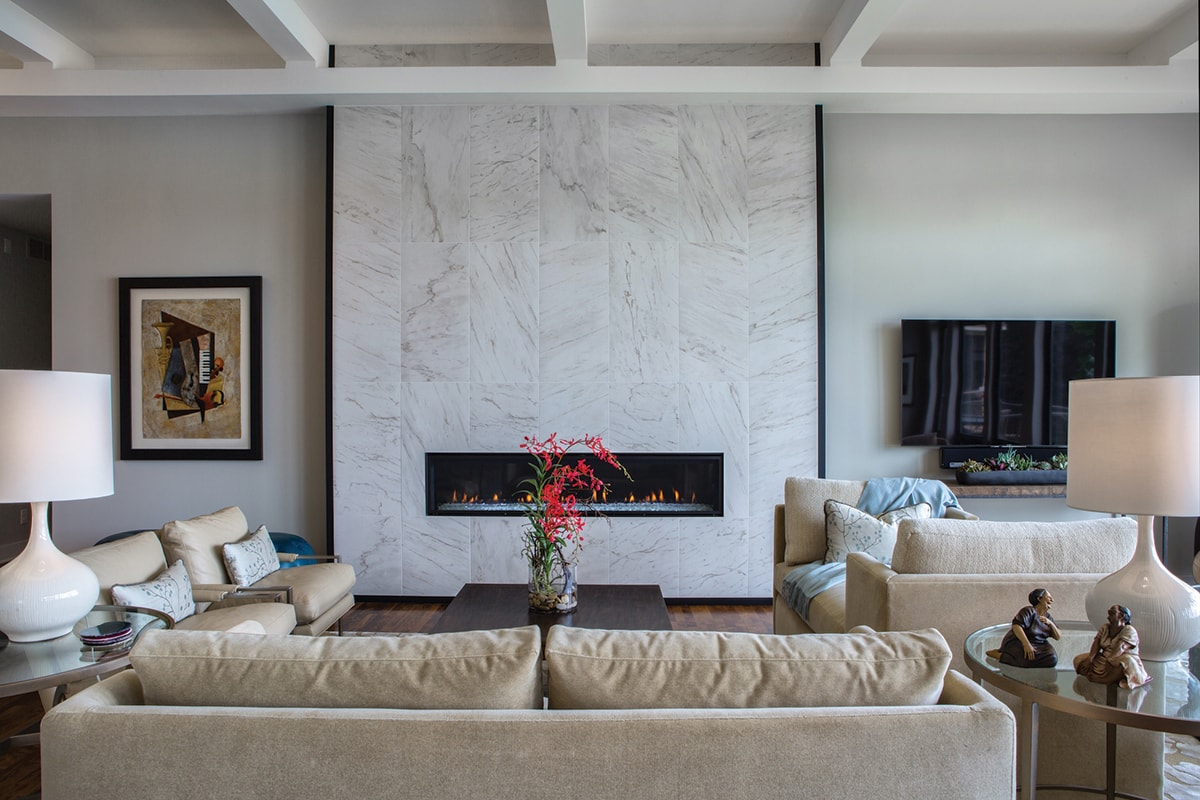 In the great room, a replace of porcelain tiles makes a striking focal point while the Cisco Brothers sofas and custom Burton James chaise lounge swathed in a chenille offer plenty of lounging opportunities. Pogonitz reframed an abstract painting the couple owned and layered in some vintage accessories. "The wife loves clean lines and modern, but she also has a passion for vintage pieces."
The master suite is equally varied with its mix of textures and design motifs. An upholstered headboard is sheathed in a cotton from Old Biscayne Designs, and for those chilly Minnesota nights, there's a faux fur throw within arm's reach and a wool carpet bound in leather underfoot. A bold pattern of deep taupe and white tiles evokes some of the couple's international travels in the master bathroom. "It has kind of a Moroccan motif and it injected some drama into a smaller part of the house that is mostly enjoyed by the owners," Pogonitz says. A stool from Lee Industries, with its legs akimbo, also conjures a similar air. It sits under a desk from Maria Yee that Pogonitz added in lieu of a traditional vanity. "We created a more exotic, yet contemporary, space," she adds.
In contrast to the casual elegance of the main living area, the lower level is more relaxed. However, there's no sloppy design here. Pogonitz deferred to darker tones and installed a sectional from Burton James
in a high-performance fabric and two barrel chairs from Thayer Coggin in chenille. A round ottoman upholstered in Pindler fabric offers a jolt of color and eliminates any chance of grandchildren bumping sharp corners on a hard-edged coffee table. "They wanted a warm and fuzzy feeling where the family could hang out," Pogonitz explains. With a cocktail bar of salvaged brick veneer painted black, a pool table and three guest rooms, the lower level is used all the time. "It's a wonderful space."
The same could be said of the entire lake house. "People want rooms they can live in," the designer says. "Gone are the days of rooms that are untouchable."